JimmyJo & the Jumbol'Ayuhs hails from the "bayous" of coastal Maine. Based in Phippsburg, the Jumbol'Ayuhs serve up music from Cajun Louisiana with a Downeast accent. Featuring Jim Joseph on accordion, second fiddle, and vocals, and Pam Weeks on lead fiddle and vocals, the Jumbol'Ayuhs play lively two-steps and waltzes that tug at your heartstrings. Bill Olson on guitar, Elna Joseph on bass, and Kit Garovoy on percussion round out the sound and provide the bottom end that will keep you dancing!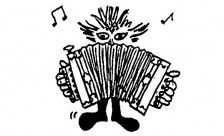 Previous events
Jimmyjo & the Jumbol'Ayuhs
Tuesday morning, same time same spot!!
A weekend of fun in downtown Biddeford. JJ&J plays on the main stage from 8-9PM on Saturday!! aieeee...
Jimmyjo & the Jumbol'Ayuhs
Back again 10-noon in front of the bank!